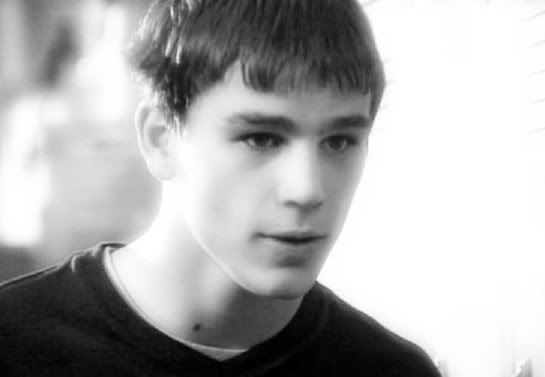 This is for
romeny just because

Title: CHANGES - Part 17: Intensity
Pairing: C/Z
Rating: G



When he breaks the kiss his eyes smile encouragement so I won't get lost in the convolution of my own words. I think he's like a cat, now leaping on my shoulder, his hands pin-walking down my arms in a determined bit. There's a teasing grin, a wicked eyebrow and my stomach flutters warningly. Again he's kissing me like it's been years, arms wrapped around my neck, legs around my waist, shredding my poise before jumping down easily. I chuckle to play it cool but for several minutes I just can't hear my own thoughts. I'm shocked about the realisation 'he has the power to do this to me' – leaving us twin-like, lover-like, selfish and softly revealing, controlling yet vulnerable. This is me who just needs Casey to make me feel safe enough to show my feelings. His face gives me the courage to wake from this daydream, that isn't a dream at all. It's exhilarating, illuminating – it just feels great.

Wisps of hair are on his face, blown there by my breathing, his blue eyes calm like the sea – he's perfect. I want to tell him so much but I keep quiet. I don't how if I should laugh or cry. I can't do the one or the other. I just can't DO anything, I just feel.

This isn't just a careless moment of joy, with an underlying message for me and me alone – it couldn't be clearer if it was written in neon on his forehead. I love him. I truly love him. Now and forever.

No doubts. No fear. Just the plain truth. My heart aches, beats harder… faster, the thrumming exploding like thunder in my ears, in my head, behind my eyes.

Holding him, just holding him, clinging to him – it's this kind of obsessive protectiveness. To keep him safe. Most of all to keep me safe.

'Do you know what I'd like now?' he asks me silently. 'Chocolate and sex, in that order … possibly together' he's moaning in my ear. Holy shit! We're still at his parent's kitchen! Then he laughs and giggles , pretending as if nothing really happened, that makes me smile.

This intense moment is over but it will be added to my memories. As there are already added so many more since I really know him. But do I know him at all? I doubt about it. He surprises me day by day.

Mr. Connor clears his throat, Mrs. C calls us "Lunch is ready, guys. Come on over."

Lunch is fantastic, Mrs. C. is a great cook. I never had t-bone-steak, potatoes and a huge bowl of self made salad in years. Since gram died. What would she say if she could see me now - in the middle of a real family, accepted, respected and – yeah – I think they like me.

The dessert is Mousse au chocolate which made me chuckle. So part one – done!

Casey's look makes me blush. Can't he just eat the dessert ? Must he moan and groan that way? He's seducing me? Here? Now? Woah, it's hot. He's hot.

The Connors start a light conversation about school, my flat (it isn't any longer only a garage where I sleep), about holidays. "Your parents must be very proud of you, Zeke. Casey told us you're an A-grade student…"

Fine. Perfect subject. My parents. What should I say? Keep quiet, Tyler, just keep quiet. I stare at the blank wall, there's nothing left there. I don't like that I still feel something for my parents.

Then Mrs. C. notices what she's said. "Oh! I'm sorry, Zeke." What the heck did Casey tell them? It's time to leave, I want to go home. Now. Another time Mr. Connor turns the subject easily. He asks us if we'd like to join him for a fishing tour. That's one of the things I don't like. It's kind of cruel. But can I say no without explanation? Would it be impolite to refuse the invitation? "Zeke, if you don't want to go you just don't have to…" Another mind reader.

I feel uncomfortable. I can't handle this family thing. Not yet. "Dad! Leave him alone, please. We have other plans already. Zeke wants to change his flat and it's still a lot to do. We only can do it at the weekend because of school projects, k?"

Mr. Connor smiles and is very understandable. It's my turn to say something "Thanks, Mr. Connor. But I don't like fishing – I'm sorry." Was it that difficult, Zeke Tyler? No. I'm just not used to say what I think. That's all. Suddenly there IS this urgent need to talk though I don't know why. Where does it come from?

"Zeke! I think we should go now – you have to clean the tiles. So come one, we're late. And we should have a look at your gr… at Aaron."

So he didn't tell his parents. Good. I isn't that I would mind but … no, not yet. First I have to deal with it myself. It's all so fresh and new.

Casey is right, we should leave now. Especially because I feel sick. The magic word that made me feel like this was "parents". I have to talk to them though I know I'll feel much more sick after it. But it just has to be. They owe me some answers.

Hand in hand we're walking in silence through the city. Slowly the tension disappears. Exhaling deeply he squeezes my hand "Better, Zeke?" Oh yes, much better. Why am I that complicated? Casey deserves much better. "Zeke?" Stop this, Tyler. Enjoy Sunday afternoon with Casey. Putting my arm around his shoulder he leans on me, beams at me, taking my breath away. "Casey… I'm glad you're here. You'll always be my friend, won't you?" With a wicked smile he asks me "Truth?" – "Yeah, truth."

He stops and puts his hands around my waist, piercing me with his eyes "I always want to be your friend and your… lover…" This guy is pure seduction. Lover. Lover. The word is echoing in my ears, in my head. And then he's kissing me soft and slow, very very deep. This kiss makes me weak in the knees, blank in my head, I want him. Oh yes, I want him.

"Want you, too…" is all I can say lips on lips. He's closer to me than I'm to myself.

It takes us quite a while to reach my home. Closing the door behind us, turning around to him I know it will happen. This afternoon. He knows exactly what he's doing when he turns the key…

Tbc.
.