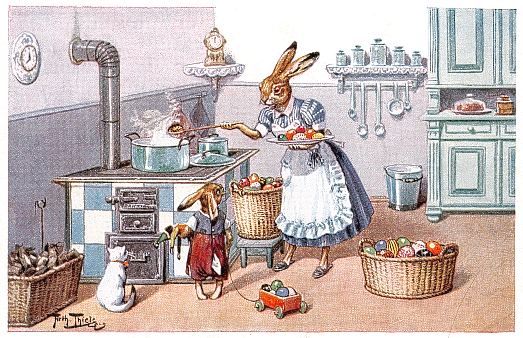 Hello friends,
I'm feeling so much better today, got up at 6 a.m. and it seems to become a wonderful sunny Easter Sunday!
Now it's time breakfast! See you later again! *waves and jumps*

Title: Lovely Sunday morning
Pairing: C/Z
Rating: PG



I love breakfast for dinner. Especially on Sunday.

Getting up as early as I do to get to school – usually I just can't get the idea of eating anything in the morning – I love breakfast food for dinner or later in the mornings on weekends.

Because we didn't have it for quite some time I want to surprise Casey.

That's why I love my little kitchen clean and scrubbed with its painted cerulean blue walls, the pastel yellow curtains, it makes the little room cheery. Casey has a good taste when it comes to colours (ok not only when it cames to colours!) – this place is now just filled with … charm.

Tiny morsels of chipped beef smothered into a creamy white gravy topped with two eggs – sunny side up (just like Casey loves it) – mmmm… delicately salty, creamy and finger-licking good. Omelets with toast, ham, bacon, tomatoes, mushrooms, cheese…

Strawberries with cream, pears, apples… not to forget the easter eggs and the chocolate easter bunny .

I'm glad we placed a cushioned bench below the window – it's a great place to sit and enjoy our morning coffee while watching the birds outside.

Almost done. The smell of all this should kick him out of bed very soon …
Did I say the smell will wake him? Oh no - why wait!

It's time to wake up my little mystery by myself … not only because I'm feeling a bit hungry…

a bit adventurous, too …

So good morning, Zeke Tyler!
Hurry up!

.

Enjoy this beautiful Easter Sunday morning with lots of love, sunshine and a happy Easter breakfast (or brunch) !