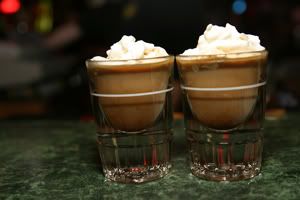 Our dear friend
lijahlover
posted a lovely ficlet for
honeyandvinegar
you can find it here:

http://lijahlover.livejournal.com/221389.html#cutid1



So if you are interested in a nice little cocktail (a funny one, too) -
here's the recipe:

It's called BLOW JOB

3/4 oz. Irish Cream (Bailey's)
3/4 oz. Coffee liqueur or Amaretto Almond liqueur
whipped cream



Instructions:
Layer the liqueur and Irish Cream by pouring the Irish Cream over the back of a spoon. Add whipped cream on top. This shot should be drank without using your hands. Pick up the shot glass between your lips and tilt back.

It just tastes great!

I'm sure Zeke and Casey enjoyed it on the highest *giggles*



Cheers!