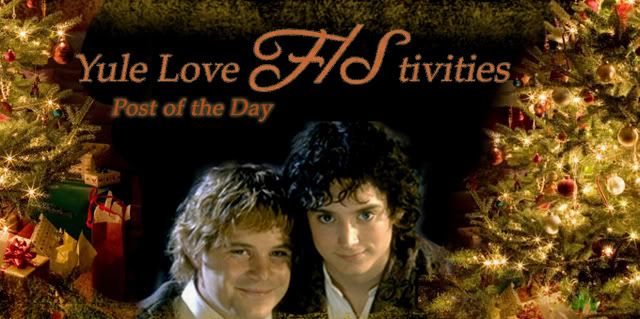 Title: "Yule"
Pairing: F/S
Rating: PG13



A candle burns on the kitchen table

Snow sweeps the world from

end to end outside.

Little tom-tits chattering and singing

like Sam does

when he's working.

Sam.

He always makes my home

to our home…

The lovely arranged red apples

in the bowl on the counter …

white candles placed on the

mantelpiece …

flickering flames casting shadows

on the walls.

There's the little wooden horse

my father made for me

many years ago.

It's the time of the year I miss

my parents the most…

Even after all these years.

But this Yule it's different,

This Yule I'm not alone anymore,

This Yule I have somebody to hold …

Looking around again …

Sam did a wonderful job,

All seems so peaceful and bright …

Fir cones cracking cheerful in

the chimney …

I'm looking at Bilbo's picture

Dear old Bilbo…

I remember our first Yule.

Never will I forget what you did

For me … not only this very first Yule

But all my life…

Now he's at the market

Looking for a Christmas tree

He said.

This makes me smile.

I remember the first Christmas tree

We had here at Bag End.

I remember it had the fragrance

of pine…

Bilbo put the whitest and fairest

angel hair on it,

ornaments he got from the Elves –

(so he said)…

silver shining little figurines

and stars…

Now my Sam is back.

Looking at him …

I remember the first kiss we shared

My Sam and I…

The kiss that began and ended

each second.

I don't need stars and figurines

or angel's hair…

Yule has the charm of life.

Life has the charm

of Sam.

.