HAPPY BIRTHDAY my dearest
mews1945

I hope you'll have a fantastic day, with love and joy, wishes and dreams.
You're one of a kind, the best friend one could ever wish for.
Thank you for all the love, support and joy you are giving.
Like upside-down rainbows your smile always brings the sun.

Lots of love and biggest hugs,
Julchen


Your story "Signs" will always be very special to me, it's one of the first one's I ever read in your journal.
It's sweet, hot, charming and lovingly ... like you are
I picked this little sequence:
"You shouldn't be baking in naught but your skin." Sean trots out the Sam accent, hoping for a smile, but he doesn't get one. Elijah just scowls and turns back to the oven.

"I'm not baking, I'm just warming up some cinnamon rolls from Elaine's," he says, and takes the round baking tin from the oven. It's lined with big cinnamon buns, the brown sugar and cinnamon melted and bubbly on top, the fragrance delectable. Setting it on the stove, he adds, "I was going to bring you breakfast in bed for your birthday. Guess I can't do that now. You're up."

Sean wonders if it's going to be one of those rare days when they keep missing each others' signals. They don't have that much time together, and he hates it when they aren't getting along
I've found it here:
http://mews1945.livejournal.com/276679.html
Without you the fandoms wouldn't be the same,
without you LJ land wouldn't be the same.
And this one is for you, just to say THANK YOU for everything: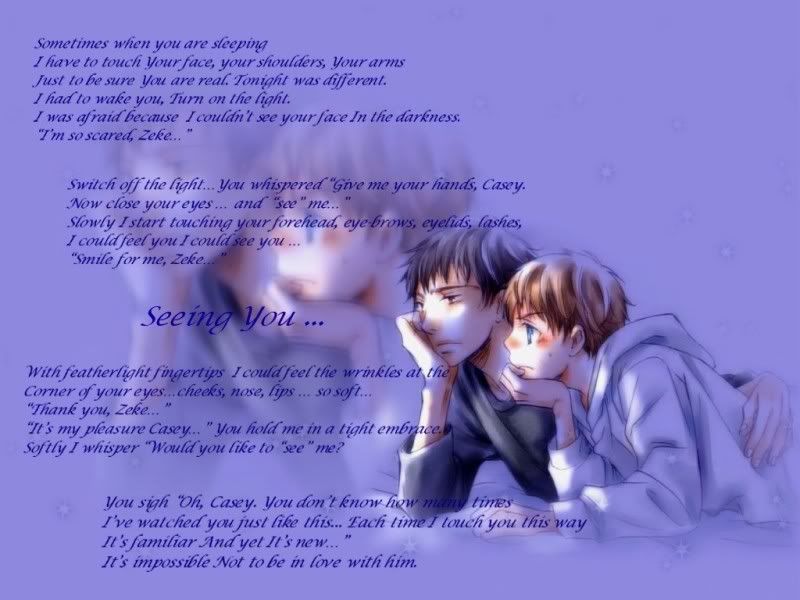 Thanks to my dear Shoe for all your help!!! *hugs you very tight*